Riva Arena Review
EDIT (09/08/2020): RIVA has added AirPlay 2 support for the Arena and the larger Festival speaker, which means you can stream audio from any of your Apple devices to multiple AirPlay2 devices simultaneously. I've tested it extensively over the summer, and it works perfectly. In my opinion this makes the Riva Arena tough to pass up as one of the very best compact semi-portable speaker choices, especially at just $150 on Amazon. If you're looking for an even bigger sound, albeit in a less-portable package, I can also highly recommend the Riva Festival, which is currently priced between $250-290 on Amazon. Although I haven't written a review about the Festival, we have owned ours for a couple years now and at this point I have absolutely zero complaints!
Recently, my wife and I upgraded our phones. The phones are great, but for some reason, they didn't work well with the little Bluetooth speaker that we liked to keep in the kitchen. The audio skipped and stuttered… which is a shame, because it really was a great speaker, especially considering its size and price. So I sold it on eBay, and started looking for other options.
Despite the massive price increase over our previous kitchen speaker, I chose the Riva Arena (which is part of Riva's new Wand series of products) as a replacement because it provides literally everything I was looking for in a speaker:
Multiple connectivity options. In fact, the Riva is the only speaker system I could find that supports all of the current dominant audio playback methods: Bluetooth, Chromecast ("built-in"), AirPlay/Airplay 2!, Spotify Connect, 3.5mm Aux-In, and Wi-Fi Direct!

No microphone. I'm not yet convinced I want an always-listening "thing" in my kitchen or living room.1 If you are interested in acquiring an always-listening "thing" for your home, Riva is planning to release Google Home- and Amazon Alexa-enabled versions of the Arena later in 2017, according to TrustedReviews.

Multi room listening. There are multiple options for syncing up Riva devices, even with other non-Riva Chromecast devices. You can even sync up Riva devices wirelessly when you're away from home without your regular home WiFi network.

Good sound. I don't particularly like listening to music through smartphone speakers, but I'm also not an audiophile by any stretch of the imagination. So, for whatever it's worth, my opinion is that the Riva Arena sounds really good. More on that in the Experience section below.

Battery. The Riva Arena's battery is not cheap, but it does have one. I haven't tested its longevity yet, but Riva claims it'll power the Arena for 20 hours at 75dB. Even half that time would be more than sufficient for me – I just want something I can take with me out on the deck or into the garage for a few hours at a time.
Unboxing
First up is the battery.
Then the speaker unit itself. Build quality seems solid. You can see the IO ports covered under a protective sticker (to be removed before attaching the battery, of course). It even has what appears to be a place to mount the speaker to a wall bracket. The battery connects & disconnects easily enough. The rubber IO cover must be removed to attach the battery, but there's a slot for it in the battery, making it much less likely to get lost; a nice touch.
Setup
Setup was easy enough, although it did take a little longer than I expected. I began by installing the Riva Wand app…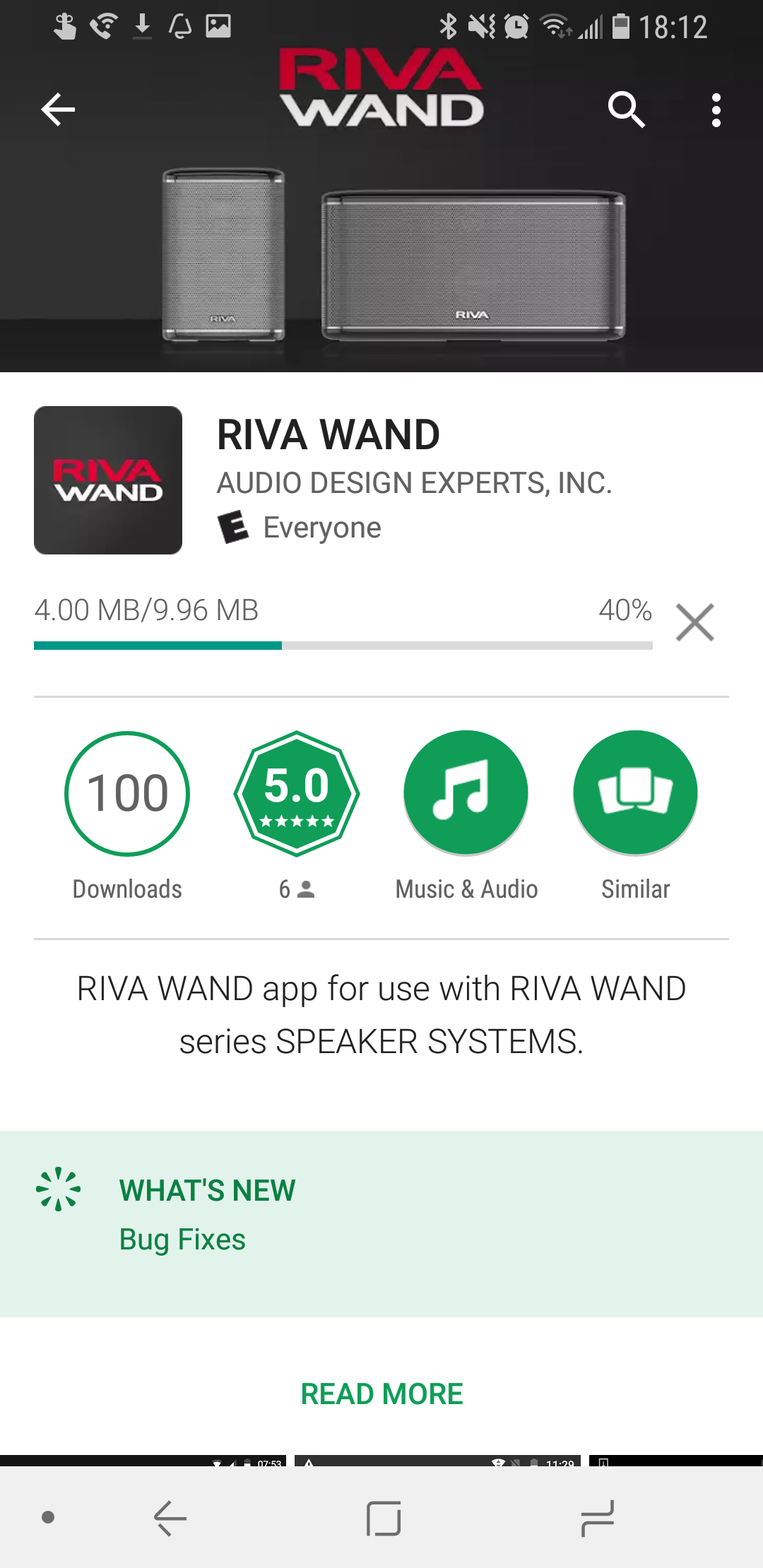 And quickly found that I actually needed the Google Home app in order to get the Riva Arena operational. Google Home quickly picked up the Riva Arena… supposedly using ultrasonic frequencies. Weird, but cool.
Google Home played a test sound… I heard it… OK, on to the next step: naming the speaker, and connecting it to our wireless network. If the password for your wireless is saved in your phone, Google Home will automatically push it over to the Arena, as it would for any Chromecast device. It supports 5Ghz networks, by the way. Nifty.
This is the part that took an unexpectedly long time… around 15 minutes, if I remember correctly.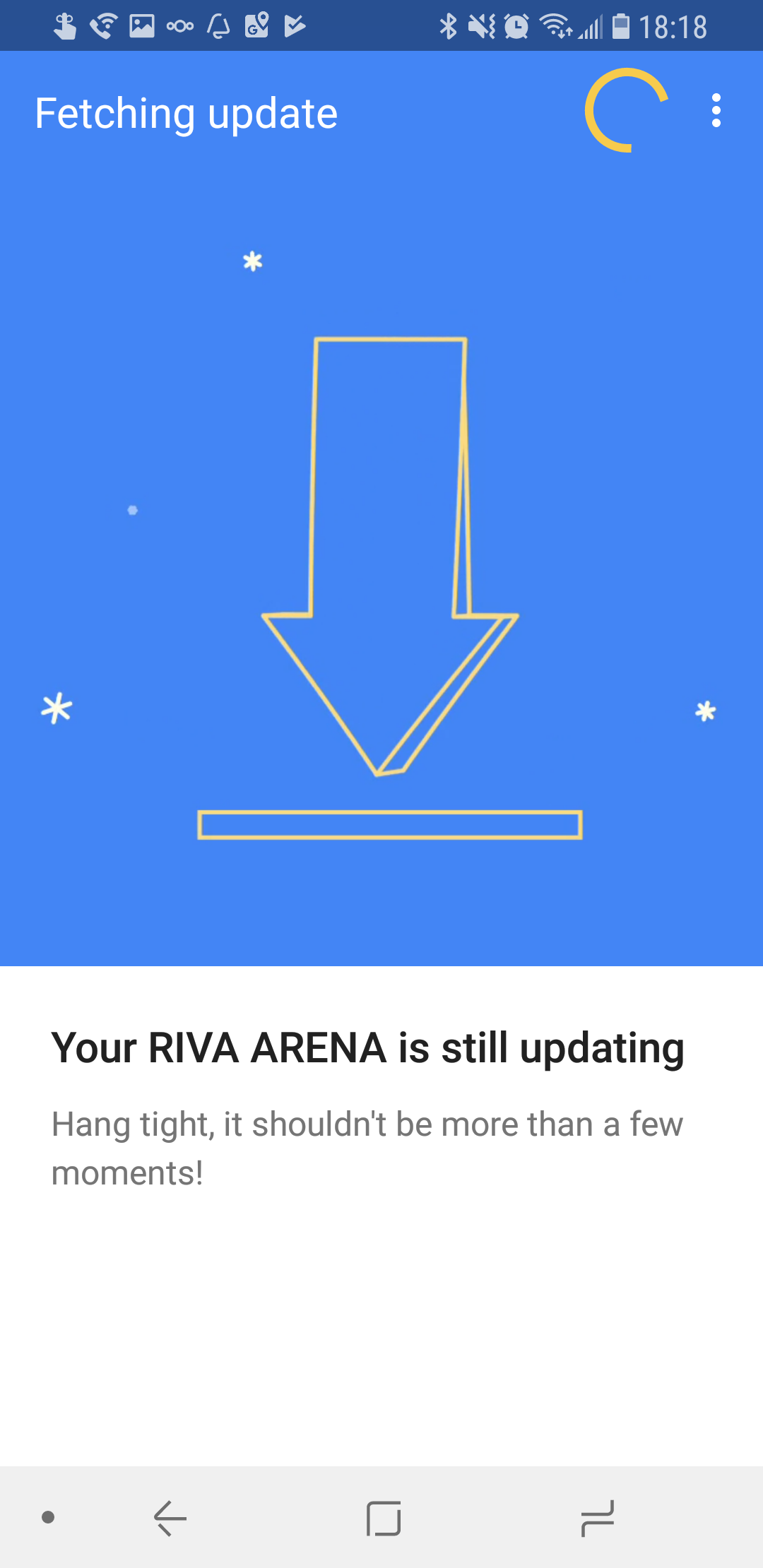 It rebooted a few times, but once it appeared to be done updating, the device never really seemed to completely "come back"… it would show up as a target in Chromecast-enabled apps, like Google Play Music, but it would never actually play anything successfully. Eventually I power-cycled the Arena… and it's been working perfectly ever since! All in all, far from a terrible experience.
Experience
Not a lot to say here yet, although this section will be updated with any notable observations as we continue to use the speaker over the years. So far, though, all has been good – anyone on our network can "cast" to the speaker just as easily as they can to our actual Chromecast HDMI stick. The device has been reliable; it's been "on" (or in standby) since I set it up a few weeks ago, and I haven't had to power-cycle it since that time during the Setup.
The Riva Arena sounds great. It's "full", even at low volumes. And with a 50 watt amplifier, it gets very loud; impressively so, considering its size. For those of you who may be more of an audiophile, the Riva Wand products will supposedly play 24-bit/192Khz FLAC if you want it to.2 The Riva Arena does not, so far as I can tell, offer any EQ controls on the device or via the Riva Wand app.
Because we only have one Riva WAND product, I can't really play around with any of the fancier features, like the "stereo" grouping functionality whereby two nearby Arena's can play the left and right channels of an audio stream. I may be able to put our HDMI Chromecast and the Riva Arena into a Google Home group, but I haven't taken the time to mess around with that yet.
I also own no Apple products, and do not subscribe to Spotify; therefore I have had little incentive to mess around with AirPlay or Spotify Connect. Next time we have friends with Apple devices and/or a Spotify subscription over, I'll provide an update on those streaming options.
Few other miscellaneous things I'd still like to test:
AUX in
Direct Bluetooth connection
USB playback & charging
Power consumption: need to spend some time measuring with a Kill-A-Watt.
Things that will require more than 1 Riva Wand product:

"Travel" mode, where the speakers aren't on your home WiFi, but can still sync up playback with each other
As mentioned above, the in-home device grouping functionality (i.e. multi-room, and/or the stereo option).
Conclusion
Still lots of functionality left to test, but so far, we've been very pleased with the Riva Arena. Good sound, battery, and super-easy to setup and to use. We've been listening to a lot more music in the kitchen than we used to. :) Would recommend!!
Footnotes